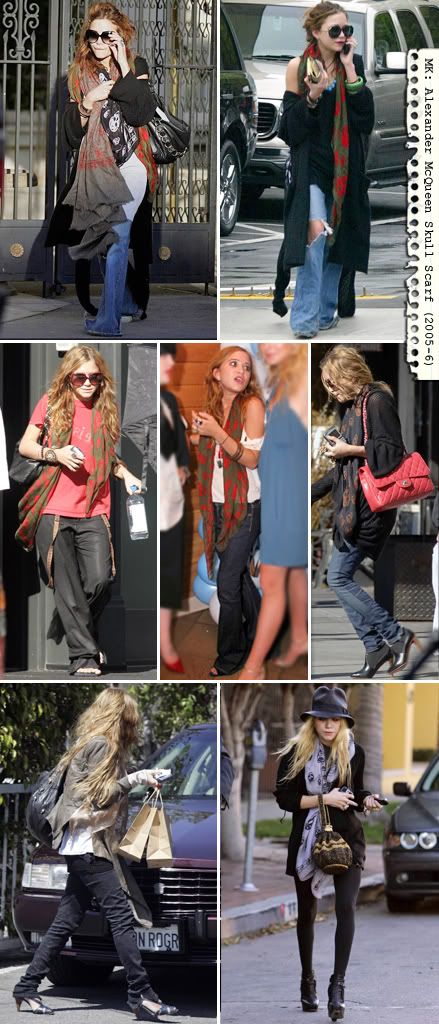 Ya vimos a
Mary Kate Olsen
llevando el pañuelo
Alexander McQueen Skull Scarf
en su color clásico blanco y negro (
aquí
). Luego a
Ashley Olsen
atreviéndose en varias versiones con distintos colores (
aquí
).
Ahora esta entrada de
Mary Kate
, también usando este famoso pañuelo, en una mezcla de colores diferentes.
En la primera foto, por falta de uno lleva 3 pañuelos, dos de ellos de McQueen en clásico y en verde con rojo; que luego continuaría usando durante el año 2005 (cuatro primeras fotos).
En el 2006, varió con uno en negro y marrón, luego en marrón más claro con blanco y por último en gris y negro.
We saw
Mary Kate Olsen
wearing the scarf
Alexander McQueen Skull Scarf
in classic black and white color (
here
).
Ashley Olsen
then daring in several versions with different colors (
here
).
Now this post from
Mary Kate
, also using the famous scarf, in a mixture of different colors.
In the first picture, for lack of a leading, three scarf, two of them McQueen in classic and one in red and green, which then continue to use in
2005
(first four photos).
In
2006
, changed to a black and brown, then lighter brown with white, and finally gray and black.